Prof. Indra Spiecker from Goethe University Frankfurt Visited Guanghua Law School
发布者:洪佳颖 发布日期:2019-12-28 点击次数:
152
On November 22, 2019, Prof. Indra Spiecker from Goethe University Frankfurt visited Guanghua Law School. Prof. Zhao Jun, Vice Dean of Law School, Mr. Lin Huanmin, Member of Civil and Commercial Law Institute, and Ms. Hong Jiaying, Secretary of Foreign Affair hosted the meeting.
Prof. Zhao Jun first extended a warm welcome to Prof. Indra Spiecker's visit and gave an overview of the history of the school's development, organizational structure and division of disciplines. Then he introduced the ongoing research focused on the field of artificial intelligence and law, and the school-enterprise cooperation in this field.
Afterwards, Prof. Indra Spiecker shared her first impression of China and introduced the basic situation of Law School of Goethe University Frankfurt. They also had a heated discussion on emerging issues in the realm of jurisprudence. Further both sides reached an agreement on the cooperation on teacher and student exchanges, talent training, scientific research cooperation, remote video, and joint meetings, hoping to develop in-depth partnership.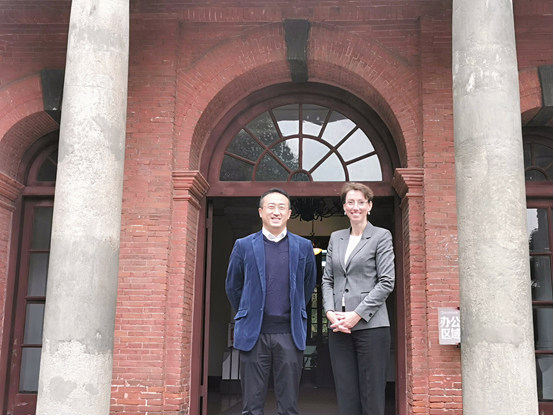 Prof. Indra Spiecke is the director of the Institute of Personal Data Protection at Goethe University Frankfurt. In addition, she is the editor of Verwaltungsarchiv, European Data Protection Law (EDPL), Computer und Recht, and other legal journals. Further she is an expert in German Federal Administrative Law, Data and Information Law, and also a consultant of Deutschen Gesellschaft für Recht und Informatik (DGRI), and Stiftung Datenschutz.
Prof. Spiecker has achieved much in academics. Indeed, she authored 30 books, participated in the compilation of 17 legal reviews, and published more than 90 articles. Moreover, she also participated in the compilation of General Data Protection Regulation (GDPR) and contributes much to EU personal data protection.
Mr. HA Charles
Zhejiang University Guanghua Law School
November 28, 2019