Delegation of German Bayreuth University visited Zhejiang University Guanghua Law School
发布者:洪佳颖 发布日期:2019-12-08 点击次数:
111
On December 5, Mr. Heinemann, Director of the Foreign Affairs Office of Bayreuth University in Germany, and Ms. Yiwen Chen, Head of Bayreuth University's Shanghai Office, paid a visit to the Zhejiang University, Guanghua Law School.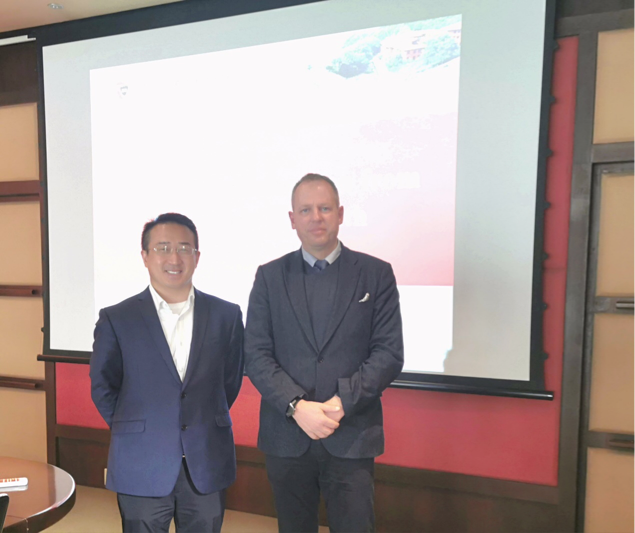 First of all the guests were received by Prof. Jun Zhao, Vice Dean of Guanghua Law School, Ms. Jiaying Hong, Secretary of Foreign Affairs and Ms. Tengfei Meng, Secretary of LLM/SJD China Law Program.
Afterwards, the meeting was held in Yuquan Campus of Zhejiang University and Prof. Jun Zhao extended a warm welcome to the delegation from Bayreuth University in Germany.
First Prof. Jun Zhao introduced Guanghua Law School's international reputation, development focus, dominant disciplines, and the student exchanges, etc.
Then he gave an overview of Law School's international cooperation in the field of AI technology. Mr. Heinemann reviewed the existing cooperation between Zhejiang University and Bayreuth University. Following he pointed out that Bayreuth University has carried out in-depth cooperation in mutual teacher visits and student exchanges with the Department of Polymer and Chemistry of Zhejiang University.
During this visit, both sides conducted preliminary discussions on scientific research cooperation, mutual visits of teachers, student exchanges, degree programs, summer camp programs, co-organization of international conferences, and remote teaching. Finally both sides expressed the hope that the two universities will become increasingly close and carry out in-depth cooperation and exchanges in the future.
Ms. Lingchenyang Meng and
Mr. HA Charles
Zhejiang University Guanghua Law School
December 8, 2019