2019 Library Lecture for International Students Was Successfully Held
发布者:洪佳颖 发布日期:2019-11-28 点击次数:
159
In order to improve the development of the process of international education of ZJU Guanghua law school, the Guanghua law school library held a lecture on the topic 'How to use the library resources' for the 2019th Grade international students on Friday afternoon, November 22, 2019.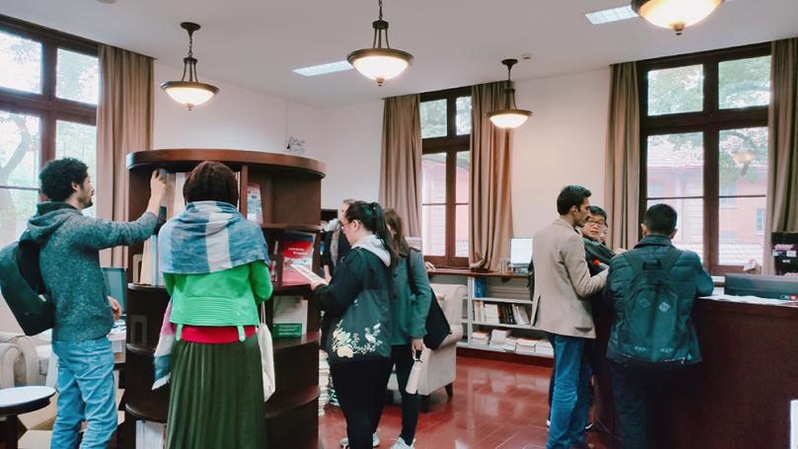 The main point of this lecture is to introduce the resources of the Law School library, including databases, books and journals. It also provides information about the way to find and use all these resources.
Mr. Yuan Jie, the librarian gave a speech to introduce the rules of book borrowing, the method to use databases, and the distribution of collection resources with the <Library guide 2019>which has been customized for international students. If you are interested of this <Library guide 2019>, you can ask for it from thelibrary. With the help of Meng Tengfei from the Teaching and EducatingCenter and HA Charles 2nd year student of the LL.M.program, the speechwas completed successfully.
After the speech, students were invited to ask questions, and Mr. Yuan answered and explained in more detail about the borrowing rules and ZJU rvpn. Afterwards, the librarian Zhou Weiwei led the international students to visit the foreign language library and introduced the distribution of resources in the foreign language library.
'It is a good opportunity to help us to know that international students are so interested in law school library and the lecture can help them a lot'. Mrs He Lingqiao, the leader of the library also said: 'In the future, we will strengthen our English communication abilityto meet the requirements of international education'. The lecture helped the international students to interact with the law school library to get information about the library resources, and it also enhances the development of the international educationin ZJU Guanghua Law School.
Library
2019.11.28